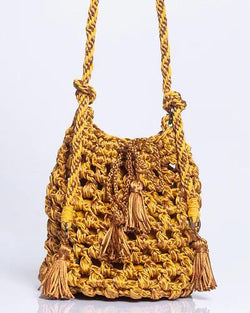 Jasmin Bag - Catarina Mina
Description:

Jasmin, made by hand from crochet, with a mixture of satin threads. It has a tubular crochet loop and another loop on Onix chain with macrame, two tassels of satin threads, closure by adjustment cord, and an internal logo. Signature Catarina Mina details are displayed on this stylish bag.

- 21cm (Height) x 19cm (Width)
- Shoulder Strap - 110cm

60% Cotton
40% Polyester

* The product may undergo minor changes in size. This happens not only because of the artisanal process, done manually by artisans. Cleaning should be done with a damp cloth and dried in the shade.

About Catarina Mina:

Catarina Mina - We are from Ceará. Were Brazilians. We are crochet and thought soul. We are a brand that has been on the road for 12 years, with a job that often feels like swimming against the tide. We believe in a different fashion, a fashion focused on who produces, and that focuses its efforts on questioning, rethinking, reflecting and making decisions taking into account a collective. A fashion that is based on a future of collaboration much more than dispute.