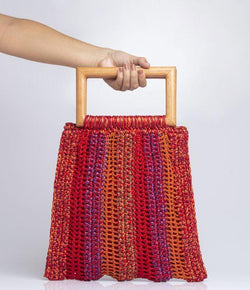 Dengo Bag - Catarina Mina
Description:

The Dengo style is a crochet bag handcrafted with mixed satin threads. Geometric shape featuring a rectangular wooden handle, sophisticated lining and logo.

60% polyester 40% cotton

- Strap: Freijo Wood
- Length: 33cm | Height: 35cm

* The product may undergo minor changes in size. This happens not only because of the artisanal process, done manually by artisans. Cleaning should be done with a damp cloth and dried in the shade.

About Catarina Mina:

Catarina Mina - We are from Ceará. Were Brazilians. We are crochet and thought soul. We are a brand that has been on the road for 12 years, with a job that often feels like swimming against the tide. We believe in a different fashion, a fashion focused on who produces, and that focuses its efforts on questioning, rethinking, reflecting and making decisions taking into account a collective. A fashion that is based on a future of collaboration much more than dispute.