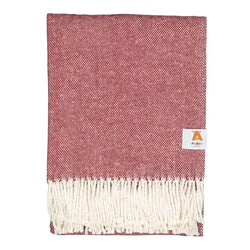 XL Cotton Throw Bordeaux Spots - Pardo Originals
Description:

Our 100% cotton throws are very soft and comfortable. They are the softness of our range. We love the feel in the skin. We believe our customers love it as well since they are our best-selling products. The XL version is perfect to share with your beloved one, family, friends or pet. There is no warmth as the shared by the ones you love. It is a good size to be in a twin bed, again sharing it with someone.

This model has a spot pattern. If we had to choose an evolution for the herringbone it would be the spots. For one side it resembles the herringbone, for the other side it has a modern look. It is perfect to go with classic and modern decor. We have combined the spots with bordeaux which is a strong and powerful colour. A colour of passion and probably that is the reason why so many people fall in love with this colour that also reminds them of the joy of a good bordeaux with friends.

Material: 100% cotton

Size: 240x200 cm

Weight: 2060 g

We keep our manufacturing as traditional as possible. For that reason, sizes and weights might vary. Colours between batches may vary due to the processes of tinting the textiles. Although we try to recreate the product pictures as real as possible due to different reasons, the product colour might vary from the picture colour.

About Pardo originals:

Pardo Originals is a Portuguese brand that sells throws and blankets. It will help you to have a warm and cosy time, some people call it a hygge time.