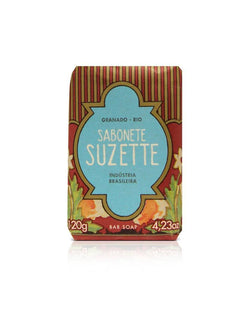 Suzette Bar Soap 120g - Granado
Description:

Suzette is a modern and vibrant fragrance that surprises with the contrast between the freshness of the fig and the green apple with the delicacy of the floral accord. Also ideal as a creamy bar soap, with 77% ingredients of natural origin.

The bar soap for the body and hands is formulated with vegetable glycerin and intense scent, gently cleansing and leaving the skin fragrant for longer. In addition, it is also made with murumuru butter and coconut oil, which help hydrate the skin.
Free of dyes and ingredients of animal origin.

Content: 120g.

How to use: Apply your Granado creamy bar soap on wet skin, rubbing gently to obtain foam. Then rinse thoroughly. During the bath, avoid using the soap under running water to ensure the product lasts even longer.

About Granado:

Granado is the oldest Brazilian pharmaceutical brand, which was created in 1870 in Rio de Janeiro. José Antonio Coxito Granado, the Portuguese pharmacist, who had a little farm near to Rio de Janeiro opened his first store in town. He was selling his own-produced remedies, medicines and other formulas and products that he made using local plants, herbs and flowers. The quality of his products brought him enormous success and soon he was able to set up his factories and a pharmacy in the most prestigious location of Rio de Janeiro. He and his brother developed many products and formulas that are sold until today such as antiseptic talc or 100% vegetable-based glycerin soaps. The company underwent many modernization processes, change ownership and capital but its main focus and objective remain the same until today: bring back life to traditional Brazilian brands and products, use Brazilian natural wealth and bring it to the people.