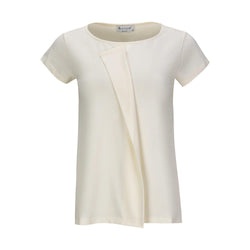 Pleated Tunic - b.simple
Description:

The Pleated Tunic is loose with a scoop neckline and a center pleat at the front. If you value detail, and like discreet and elegant pieces, this will be an option that meets your requirements.

You can dress her up with pants, skirts or even a belt! Your creativity has no limits! Enjoy this tunic that is so easy to wear and ideal for work or to take in your travel bag. Made from a very light and soft cotton and elastane knit, it makes sure you feel great from morning to night!

The Essence Collection is made with mesh that was sitting in the warehouse (deadstock) waiting for a collection that would give it life. By using this material, we avoid the impact associated with its disposal. Taking care of the environment is taking care of us!

Composition

90% cotton 10% elastane. Mesh made in Barcelos, Portugal.

Confection: Collection produced in Braga, Portugal

Easy care:
Let''s make it simple!
Machine washes up to 30 ºC with identical colours and inside out. Flat dry to help preserve garment shape. To iron (if you want!) you should only use steam.
Our clothes have a label with maintenance instructions, please read before washing!

About b.simple:

All collections are thought, designed, and produced in Portugal in a responsible and conscious way, with a very special attention for our planet.

Our inspiration: A glorious journey begins inside a woman, searching for her identity, discovering her beauty revealed in the choices of her wardrobe. We want to build more than a brand, but a style of life, for a unique woman who seeks to unravel a little more of herself, of her essence every day, and who wants to announce to the world who she is. This is the woman who gives life to our pieces. That's our inspiration!

Thinking about our customers'' well-being, we design pieces that are easy to use and care for, with simple, clean lines and colours that fit in the wardrobe all year round. Shapes are timeless and thought carefully for comfort, letting her identity blossom.

b easywear. b easycare. b simple

Sizes Guide:

XS/34 - Chest: 82cm; Waist: 62cm
S/36 - Chest: 86cm; Waist: 66cm
M/38 - Chest: 92cm; Waist: 72cm
L/42 - Chest: 98cm; Waist: 78cm
XL/44 - Chest: 104cm; Waist: 85cm

Our sizes are standard and similar to what you are used to see in the common clothes stores.

Some of our pieces have unique sizes.