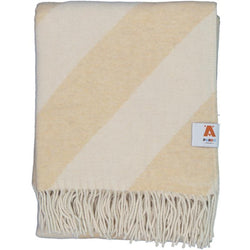 Lambswool Plaid Pastel Diagonal - Pardo Originals
Description:

Colour: Pastel Yellow and Cream
Design Pattern: Diagonal

Lambswool is a softer wool, it is the wool we choose for our blankets. Like in humans, where baby hair is softer than adult hair, the same is also true for sheep. The use of lambswool in Pardo Originals blankets allows us to find a great relationship between warmth and softness.

Material: 80% Lambswool / 20% Polyamide
Size: 170×130 cm

- We try to keep the manufacture as local and handmade as possible, so sizes may vary slightly.
- We try to show colours as close as possible, but each screen has its own calibrations, so actual colours may vary slightly from the photos.

About Pardo Originals:

Pardo Originals is a Portuguese brand that sells throws and blankets. It will help you to have a warm and cosy time, some people call it a hygge time.