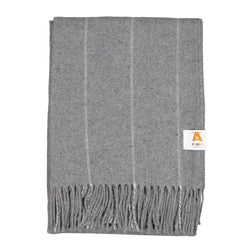 Dark Grey with Light Lines Lambswool Throw - Pardo Originals
Description:

Our lambswool throws are light and warm. Lambswool, as the name says, is the wool of the lambs. In other words, the wool of sheeps first shearings and for that reason it is soft wool. Like baby hair is softer than adult hair. This throw is great to go outside on a cooler night or just to be at home comfy and light.

This model has a modern pattern with classic colours. The vertical lines will make your eyes to go through all the throw surface. This pattern will fit perfectly in a modern home as well as in a classic home. We combined this pattern with two shades of grey, because this colour is a classic that goes well with everything. It is the middle between black and white and for that reason a very simple and easy to watch colour.

Material: 80% lambswool / 20% polyamide

Size: 170x130 cm

Weight: 585 g

* We keep our manufacturing as traditional as possible. For that reason, sizes and weights might vary. Colours between batches may vary due to the processes of tinting the textiles. Although we try to recreate the product pictures as real as possible due to different reasons, the product colour might vary from the picture colour.

About Pardo Originals:

Pardo Originals is a Portuguese brand that sells throws and blankets. It will help you to have a warm and cosy time, some people call it a hygge time.