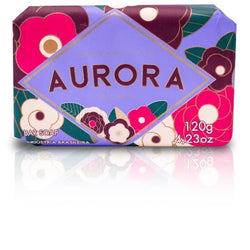 Aurora Bar Soap 120g - Granado
Description:

Aurora is a tribute to the elegance, versatility and timelessness of flowers. A meeting between classic and modern, comfort and sophistication. Ideal also as a creamy bar soap to leave your skin cleaner and scented with this fragrance that is an explosion of flowers! In a young creation that exalts a unique delicacy, Aurora is the name of the perfume that gives personality to another Granado Vintage Soap, which has a high concentration of fragrance.

The body and hands soap has a vegetable base and is enriched with murumuru butter, which collaborates with the hydration, nourishment and skin protection. Its formula is also free of parabens, dyes and animal ingredients.

On the packaging, the label has geometric traces, which carry the influence of art deco style and different shades of pink, lilac and purple, which exalt the delicacy of the fragrance. The soap also has 30g more than the traditional soaps.

Creamy and nourishing bar soap enriched with murumuru butter 120g.

Tips for use: Apply to wet skin and lather by gently rubbing in circular motions. Rinse with water. Suitable for daily use.

Composition: elaeis guineensis oil, aqua (water), cocos nucifera oil, sodium hydroxide, stearic acid, calcium carbonate, palmitic acid, parfum (fragrance), astrocaryum murumuru seed butter, glycerin, sorbitol, disodium edta, titanium dioxide, myristic acid, propylene glycol, etidronic acid, disodium distyrylbiphenyl disulfonate, peg-12, cellulose gum, tetrasodium edta, tocopherol.

About Granado:

Granado is the oldest Brazilian pharmaceutical brand, which was created in 1870 in Rio de Janeiro. José Antonio Coxito Granado, the Portuguese pharmacist, who had a little farm near to Rio de Janeiro opened his first store in town. He was selling his own-produced remedies, medicines and other formulas and products that he made using local plants, herbs and flowers. The quality of his products brought him enormous success and soon he was able to set up his factories and a pharmacy in the most prestigious location of Rio de Janeiro. He and his brother developed many products and formulas that are sold until today such as antiseptic talc or 100% vegetable-based glycerin soaps. The company underwent many modernization processes, change ownership and capital but its main focus and objective remain the same until today: bring back life to traditional Brazilian brands and products, use Brazilian natural wealth and bring it to the people.