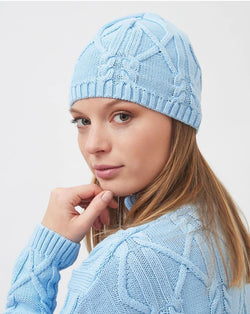 Knitted Aran Hat - Mila.Vert
Description:

The aran hat features the aran knitting style with a gorgeous cable pattern. It has a ribbed edge and a comfortable one size fit.

Maintenance: Machine wash at 30°C. Lay flat to dry.

About Mila.Vert:

Mila.Vert - Our brand reflects our values and beliefs, and we know we share many of them with you.

We believe that sustainable is the only way to make fashion – that's why we have put sustainability at the heart of our brand. We care about how clothes are made. We believe in working with nature, not against it, and we believe that all humans should be empowered by what they do for a living.