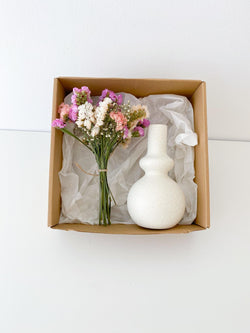 White Vase With Flowers Box - Aqui Há Peça
Description:

Includes:

1x Vase

1x Flower arrangement

1x Box



Size of vase:
A. 18,5cm | Diam. Smallest 3cm

About Aqui Há Peça:

Aqui Há Peça is a brand that produces and sells Portuguese ceramics. Pieces for spaces and special moments, simple, elegant and minimalist.

With the launch of our Serena collection, we realised that it made sense to create something of our own, our own brand, but also our own at a Portuguese level, and to continue to value the good things that are made in Portugal.

What sets us apart is our simplicity, elegance and the way we present our products. Each piece is the special "PIECE" for the special place and the special moment, treated as if it were unique. We select Portuguese pieces for special places and moments.